Pin It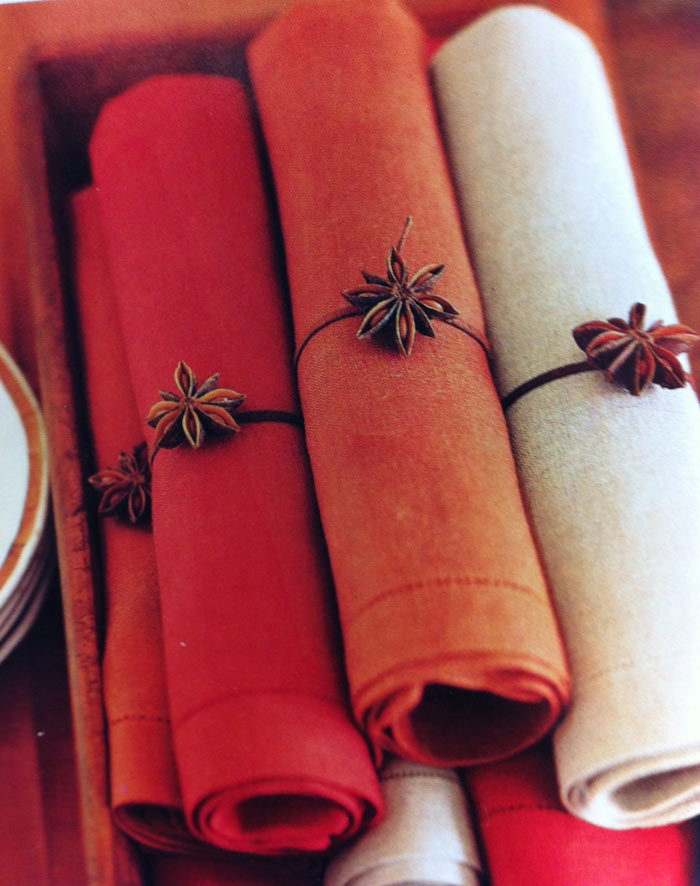 Each year before the holidays, I spend a lazy afternoon by the fire with a cup of hot cocoa and a huge stack of magazines. And they aren't any ordinary magazines. I gather all of my November and December issues of Martha Stewart Living from the archives I keep in a special trunk in my office, and plan out my holiday baking and crafts. It's a personal tradition, all mine, and I cherish it!
Here's a little DIY gem I found from the November 1998 issue–star anise napkin rings! Fastened to autumnal-colored linen napkins, they are a fragrant, elegant and budget addition to a holiday table. I'm excited to make these today, not only because they look simple and easy, but also because I already have all the materials in my house – brown suede cord, star-anise pods and of course, the ubiquitous hot glue gun.
MAKE IT: Thread a piece of suede cord (or ribbon) under the stiff stem of the spice pod. If there is no stem, place a small dab of hot glue on the back of the spice pod, then press it into the cord or ribbon. Roll your linen napkins, position the star anise in front, then tie the cord in the back to secure it.